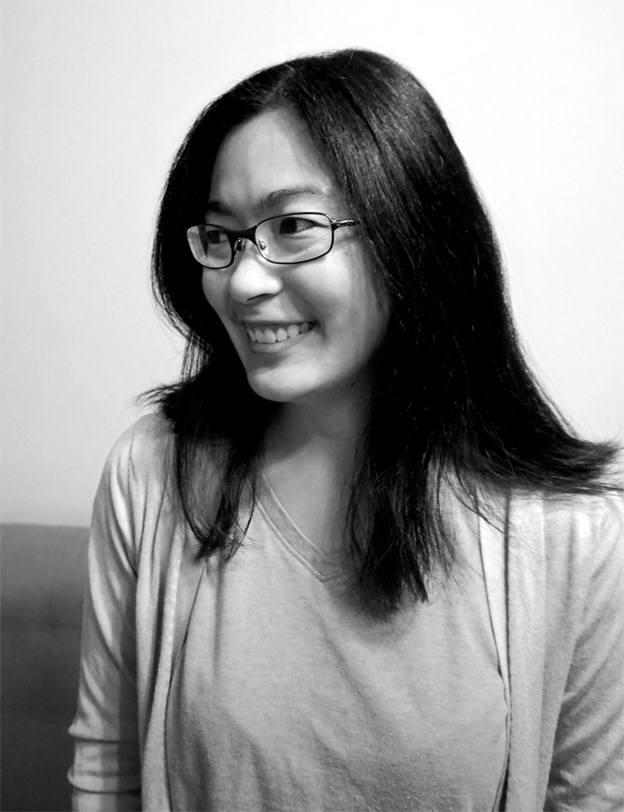 Charlene Chua

 grew up in Singapore, where she divided her time between drawing, reading comics and failing her Chinese classes. She started work in 1998 as a web designer, and went on to become a senior designer, web producer and interactive project manager.  However, what she really wanted to do was draw pictures all day. In 2003, she decided to give it a go, and after a few years, she became a full-time illustrator.
Since then she has worked with clients from Canada, USA, Europe, Singapore and Australia on a wide variety of illustration projects. Her work has appeared in the

American Illustration, Spectrum and SILA's Illustration West. 
Charlene enjoys drawing with her pencils and paper. She also likes using her computer to make her art. When she's not making art, she enjoys cooking, reading and video games. She lives in Hamilton, Ontario with her husband and their two cats.
She is represented by Tracy Marchini at BookEnds Literary for all book projects.
Amy Wu and the Patchwork Dragon (coming 2021) by Kat Zhang, Aladdin/Simon & Schuster
Hug (coming Fall 2020) by Charlene Chua, Kids Can Press
Going Up! (coming Spring 2020) by Sherry J. Lee, Kids Can Press
Genius Jolene (coming Spring 2020) by Sara Cassidy, Orca Books
Amy Wu and The Perfect Bao (coming Fall 2019) by Kat Zhang, Aladdin/ Simon & Schuster
Shubh Diwali! (coming Fall 2019) by Chitra Soundar, Albert Whitman
The Pencil (2019) by Susan Avingaq & Maren Vsetula, Inhabit Media
The Wind Plays Tricks (2019) by Virginia Howard, Albert Whitman
The Great Googlini (2018) by Sara Cassidy, Orca Books
Elisapee & Her Baby Seagull (2017) by Nancy Mike, Inhabit Media
Gokul Village & The Magic Fountain (2017) by Jeni L. Chapman &‎ Bal Das, Big, Bold, Beautiful World Media 
How Nivi Got Her Names (2017) by Laura Deal, Inhabit Media
Akilak's Adventure (2016) by Deborah Kigjugalik Webster, Inhabit Media
Leah's Mustache Party (2016) by Nadia Mike, Inhabit Media
Fishing with Grandma (2016) by Susan Avingaq and Maren Vsetula, Inhabit Media
Julie Black Belt: The Belt of Fire (2013)  by Oliver Chin, Immedium Publishing
Julie Black Belt (2008) by Oliver Chin, Immedium Publishing
- 2019 Shining Willow Finalist (Elisapee and Her Baby Seagull)
- Finalist, Foreword INDIES Book of the Year Awards (Elisapee and Her Baby Seagull)
- Finalist, First Nation Communities READ 2018/19 (Akilak's Adventure)
- Kirkus Best Middle-Grade books (The Great Googlini)
- Kirkus starred review (Amy Wu and the Perfect Bao, The Great Googlini)
- Canadian Children's Book Centre Best Books for Kids and Teens Selections (Fishing with Grandma, Akilak's Adventure, Elisapee and her Baby Seagull)
Selected Clients
McDonald's, Tully's Coffee, The Wall Street Journal, Orca Books, Inhabit Media Publishing, Cartamundi Cards, Hearts 4 Hearts Girls, OWL, Chickadee, Chirp, Rubicon Publishing, Oxford University Press, Caltex, Evan Moor, Cogeco Cable, Oxford University Press, Dove, Best Health, Pearson education, Scholastic, Aga Khan Museum, HGTV Canada, Olympia Sports Camp, World Vision Canada, Coaching Association of Canada, Albert Whitman & Company, Aladdin/Simon & Schuster, Kids Can Press